It's a long way from the hallowed lawns of Wimbledon to the qualifying rounds of the ATP Challenger Tour stop in Winnipeg, Canada. But after three knee surgeries and almost two years away from the world of professional tennis, Kyle Edmund is just happy to be back on court, anywhere, anytime.
After returning to the singles court last week at the Challenger level, this week the former World No. 14 Brit will play his first tour-level singles match since October 2020 in Vienna, when he suits up at the Citi Open in Washington, D.C.
"It's extremely rewarding to be back," the 27-year-old said. "There were long periods when I couldn't see when I would be back. There were times when there was no progression, no improvement. But I was willing to exhaust all avenues to get back. I didn't pick up a racquet for five or six months. I just wanted to play tennis."
Edmund eased his way back into tour life by playing mixed doubles at Wimbledon in June. He said that being back around his peers and getting a feel again for the environment of pro tennis was a blessing.
"I needed it, it had been such a long time," Edmund said of his return at the All England Club. "To get a feel for it again, the match-day preparation and to feel those nerves again.
"Then playing the Challenger… it was just about being back out on the singles court. I didn't care where I played. It was my first singles match in such a long time. It wasn't about the results, it was about playing a match and learning where I was at. It was a big tick box. I played three matches in a week and came away with some wins, so that was a bonus. Lots of positives to take away."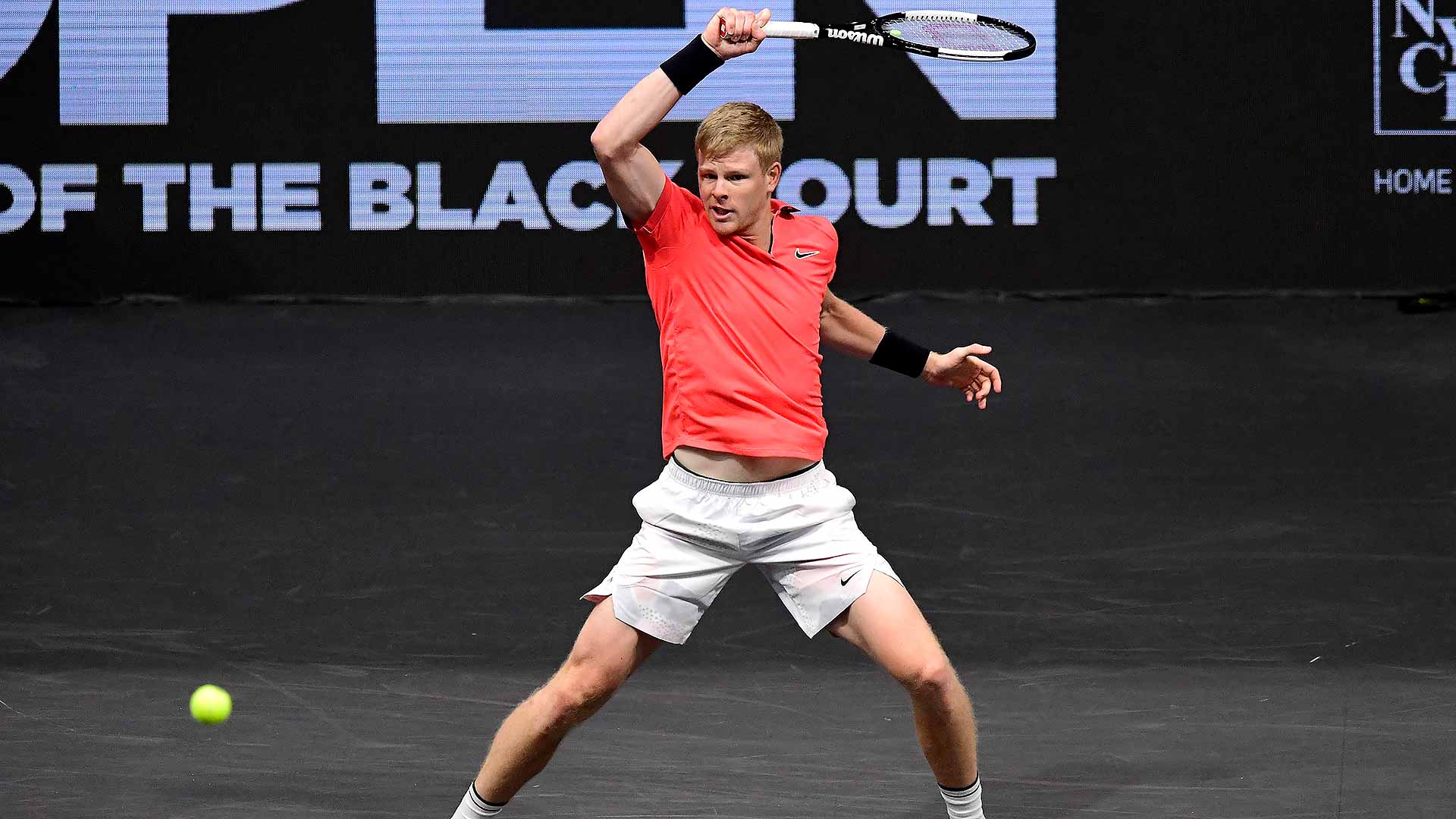 Kyle Edmund won the 2020 New York Open.
Edmund began to notice pain in his left knee in 2018 but played through it until November 2020 when he decided to go under the knife, never contemplating that would be the first of three surgeries (also March 2021 and May 2022) that would sideline him from singles action for 20 months. "The fact that it took three surgeries showed it was complicated and not something that was easily fixed," he said.
Edmund's countryman Andy Murray, who knows a thing or two about comebacks after returning to the ATP Tour with a metal hip, was asked Saturday at the Citi Open about the various physical and mental challenges Edmund would confront.
"I think one of the hardest things is when you've been injured for a while is to push yourself hard enough in practice to test your body and to prepare your body to play matches because you don't want to injure yourself in practice," Murray said about striking the right balance. "You sort of can go back into match play a little bit undercooked as well because you've just not been pushing your body hard enough in the practices."
Murray also spoke of the need to remain patient and focussed on long-term goals rather than the win-loss count in the early weeks of a comeback. Edmund says that much wisdom can be found in Murray's words, noting that knowing just how hard to push on the practice court can be difficult.
"You've got to be realistic after so much time off. You can't kill it every day," said Edmund, who has a protected Pepperstone ATP Ranking of 48.. "But this is the top of the men's game and you can't really hold back.
"For me I only wanted to go back to the match court when I felt I could be as ready as I could be. I know my early matches won't be perfect, but I need to go out and test the waters."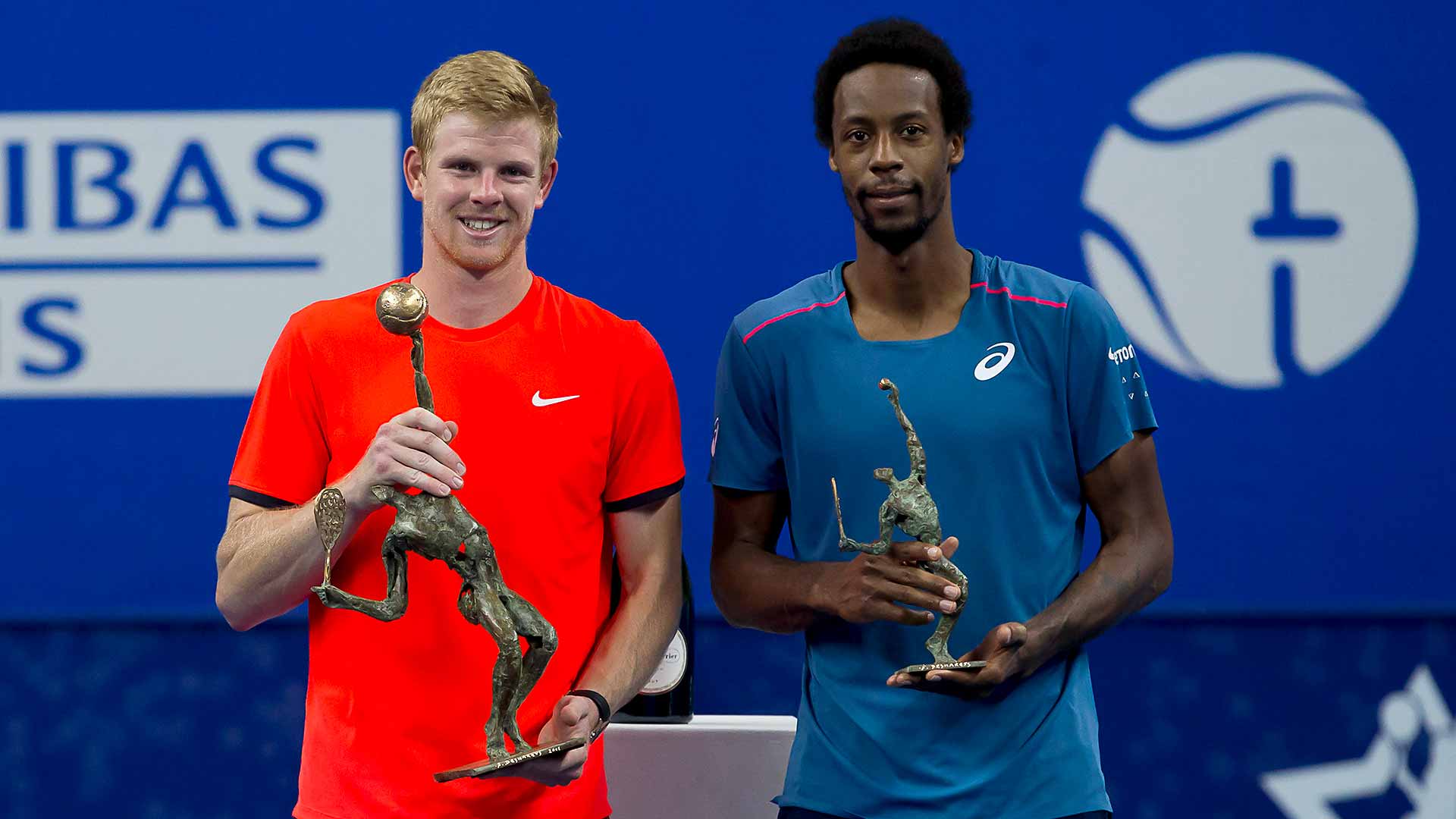 Kyle Edmund defeated Gael Monfils in Antwerp in 2018 to claim his first ATP Tour title.
Limited by what he could do physically during his enforced break, Edmund bought himself a camera and spent time photographing everyday life near his home, including trees and birds. He also taught himself basic photo editing to enhance his images.
His new-found hobby was an escape from the mundane rehab regimen, which he admitted did take its toll mentally. "There was nothing to do when you woke up. I didn't enjoy that side of it," he said. But the winner of 117 tour-level matches and two titles Antwerp (2018) and New York (2020), drew inspiration from Murray's own comeback from two hip surgeries.
"When you see what Andy has gone through with his various surgeries and time out you can see how he had to work extremely hard to get back and go through quite a bit of pain. I found with this type of injury you had to have so much self-motivation, because you could just pack it in when you are out for 20 months and three surgeries. If you don't want it, don't bother with the hard work. The reward is being back on the court and enjoying it as much as I can.
"It showed me that I loved the game. If I didn't love it, it would have been easy to walk away. There were plenty of opportunities to do that."
Choosing not to play qualifying at ATP Masters 1000 events in Montreal and Cincinnati, this week's ATP 500 in Washington will be his biggest event leading into the US Open. (He will also play another Challenger and the Winston-Salem Open.) So what does success look like in coming weeks?
"To come away from the trip feeling that I didn't have many down days physically," Edmund said. "I can deal with playing bad tennis, but physically it would be nice to say I played five tournaments in eight weeks, the knee was tested and it responded well. I'd be happy with that.
"Naturally I'd want some results thrown in there, but this stint isn't too much about results. I can't get results if I'm not consistently on the tour."